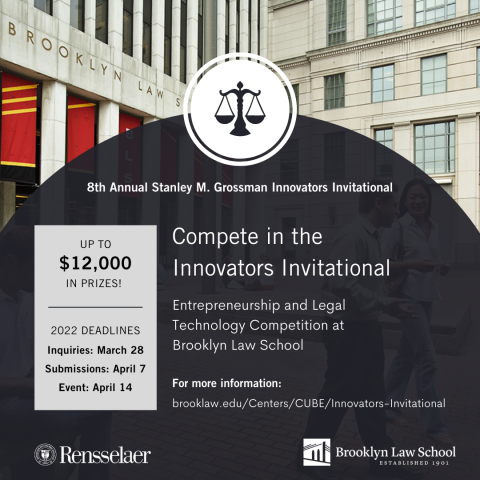 Are you interested in entrepreneurship? Are you considering attending law school? Here is a unique opportunity to gain relevant experience in both, and potentially to engage in activities as part of your Arch Away experience.

Brooklyn Law School students are seeking your subject matter expertise and insight as they prepare their submissions for the 8th Annual Stanley M. Grossman Innovators Invitational! This unique platform hosted by Brooklyn Law School offers New York State law students the opportunity to pitch their legal tech startups for a chance to win up to $12,000 in prizes. The event will be held on April 13th.  You are encouraged to reach out to Brooklyn Law School competitors to join their teams, strengthen  their submissions, and compete alongside them in this unique competition.  More details are available at https://www.brooklaw.edu/Centers/CUBE/Innovators-Invitational. 

Please send direct inquiries as soon as possible, but no later than March 28 to the teams listed below to schedule virtual meetings (and please let us know if you do make contact).   Final submissions for these teams are due April 7, and the event itself will be held virtually on April 14 with a distinguished panel of judges.
Last year was the first year that RPI students participated in this event, and one of the teams placed second in their category, so let's keep the momentum going!