Frequently Asked Questions (FAQs) Summer 2021
Following move-in, virtual orientation programs will continue. NRB in-person activities will be kicking off Friday, August 27th with the NRB Kick Off Welcome Festival and BBQ around 5pm. Your RA will provide more information as we gather for the first time as one large group.
You will receive a lot of guidance from your RA throughout the first couple of days. You will also receive a t-shirt and welcome postcard at check in with the schedule outlined for the weekend. Your NRB Advisors will also always be around to help walk you from place to place as well.
Yes, NRB is the official continuation of your orientation program and all programs are required August 27-August 29.
Part 1 of orientation will be delivered remotely this summer through a series of webinars and modules. You can use the to-do list to follow along with all of the items that you need to be most aware of throughout the summer. Part 2 of orientation is what we call Navigating Rensselaer and Beyond (NRB). This will take place upon move-in in August and give you a chance to meet classmates in person and get adjusted to campus and Troy.
Live sessions start the week of June 14. Save the date for all of the weekly webinars you wish to attend. Registration will go live 7 days before each webinar. You can always join a live Connect Day which requires no registration. Those are weekly, Tuesdays at noon for students and Thursdays at noon for parents.
There are many sessions catered specifically for families throughout the summer as well. Families even have their own weekly connect day! Check out the parent orientation information for more.
At Rensselaer, you will have a couple of different advisors. This summer, your advising hub representative will reach out to you and assist you in choosing your first semester classes. Later in your Rensselaer journey, you will also have a faculty advisor to work with. We encourage you to learn more about advising and registration.
Class registration will occur between July 19-30. You will receive an email on June 28th with your time ticket. This time ticket tells you what date and time you can register for classes during the advising period.
You can view your bill in SIS the second week in July. Bills will be due August 13.
This summer, FYE has sent emails to the personal email you applied to RPI with and your Rensselaer email. To login to your Rensselaer email from outside the campus and all other RPI systems, you will need to be connected to the Virtual Private Network (VPN). Please read all of the instructions available in this welcome email to help you set up Cisco AnyConnect and the Duo Mobile App. You will need to be connected to the VPN each and every time you access your email at https://webmail.rpi.edu.
This summer, all of the webinars are highly encouraged. You don't need to attend live; the recordings will be posted within a few days of the webinar. Please participate in as many as you can. Connect days are also encouraged so you can get to know our orientation staff and ask any questions you have from week to week. These are Tuesdays at noon for students and Thursdays at noon for parents.
There are 3 modules total. Module 1 is due June 30, Module 2 is due July 30, and Module 3 is due before move-in in late August. Visit rpi.percepio.com to complete these modules – they can be found under "compliance." Follow along with the to-do list for all other deadlines.
Modules are located at rpi.percepio.com under "compliance." Module 1: Academic Overview is available now; Modules 2 and 3 will become available in July. Modules will take 30-60 minutes to complete.
You can take a virtual tour for now to get familiar with some of the main areas you will frequent the most this fall.
You can. Admissions will lead groups of 19 with one tour guide. Masks are required, and tours are mostly outside – but you will see EMPAC, The Center for Biotechnology, and a double room in Crockett. Registration is required here.
Full time status is 12 credits or typically 3 classes. Most first-year students will be registering for 16-17 credits which will align them to graduate in 4 years, or 5 for architecture majors.
Rensselaer accepts a score of 5 on AP exams. You should receive your scores in mid-July and should work with your advising hub to send in your scores and schedule yourself accordingly for this fall semester's courses.
The date has not been announced yet. We understand families are looking to make flights so we appreciate your patience with this. When a move in week schedule is finalized we will share widely via email with new students and families.
Our dining team works with students with special dietary needs, including allergies. Please reach out to our campus dietician, Kimberly Mayer, or meet her on our July 7 Auxiliary Services webinar. Kimberly Mayer can be reached at Kimberly.Mayer@sodexo.com.
First-year students are not permitted to have cars on campus. There are many transportation options for getting around campus and off campus. Learn more here. The CDTA is free with your Rensselaer ID as well.
In the student health portal, recording your COVID-19 vaccination is just like uploading your other health forms and records. Visit the health portal to login.
The laptop you order is entirely up to you. They are all great options, some with a faster processor or sharper graphics. All will work for most majors. The laptop choices along with details on their specific features are available here.
Packing for college can seem like a tall task, but what you actually need is going to depend on what makes you feel comfortable being away from home. Establishing a new space to live and learn in is exciting. Here are some suggestions, and don't forget to leave prohibited items at home.
The Rensselaer Collegiate Store is a great place to start. Once you have your course schedule after registration July 19-30, you can search and shop using your RIN #. You can also receive a discount on Rensselaer apparel. Click here to learn more.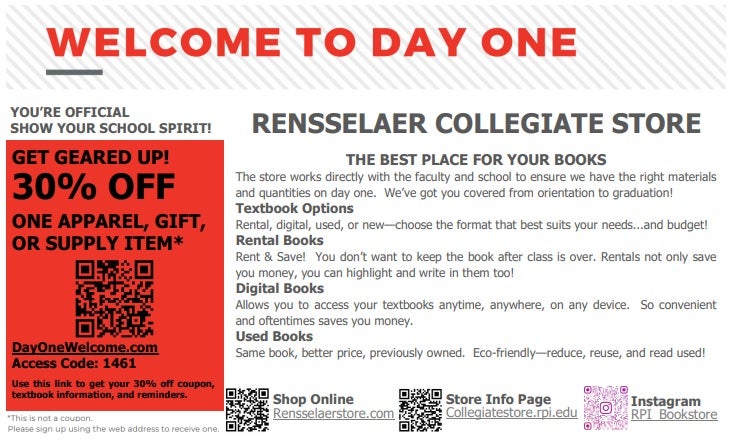 Mail should be addressed as:
"Your Name"
RPI
Residence Hall & Room Number
1999 Burdett Ave.
Troy, NY 12180
Mail and packages can be picked up at the Student Union
Regular hours:
Monday through Friday — 8:00 a.m. - 4:30 p.m.
Saturday/Sunday — Closed
More info and FAQs about student mail services can be found here https://info.rpi.edu/mail-services/students/#IncomingStudentMail